Michael Hohnbaum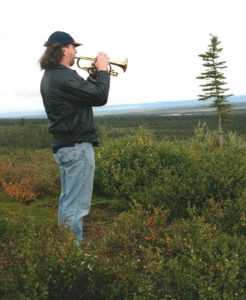 This picture was taken somewhere along the Denali Highway. For you gearheads, the instrument is a very beat up Olds Ambassdor cornet that was wrapped in a towel and thrown in the trunk of the trailer for the trip to Alaska. The mouthpiece is a Monette Cornet B2 – worth significantly more then the horn.
As time permits, I plan to add a gearhead webpage with pics of my real instruments.
For anyone in the Portland area that might be interested, I am always on the lookout for interesting and fun gigs to play. Most of my playing for the past few years has been either solo work for churches, or brass quintet gigs (mostly with Bull Mountain Brass). I have played various chamber settings with strings, etc., usually playing my Schmidt rotary valve piccolo trumpet. I've also played with the Messina Big Band in the past and have subbed with the Vancouver Symphony and the Marylhurst Orchestra.
Please contact me at michael@hbaum.com for more information.